About St. Joseph's Indian School
Since 1927, St. Joseph's Indian School has served Lakota (Sioux) children and families.
Our mission is to educate Native American children and their families for life — mind, body, heart and spirit. This mission drives our organization to educate and provide housing for over 200 Lakota (Sioux) children each year — all at no cost to their families.
Child poverty and abuse are serious issues on Indian reservations. By supporting St. Joseph's Indian School, you are helping Native American children in need reestablish pride in their culture by learning the Lakota language, studying Native American culture and healing the broken family circle from which they come.
Stories from our Lakota Indian School
"That looks very nice — very ambitious," said Darcy, a Family Service Counselor (FSC), as she looked down at the 15 creamy-colored ribbons laid along its paired yellow fabric.
Larsten, the high school student who had chosen the fabric and ribbons of blue, white, green, purple and brown, smiled.
"That's because I'm ambitious, too," she said.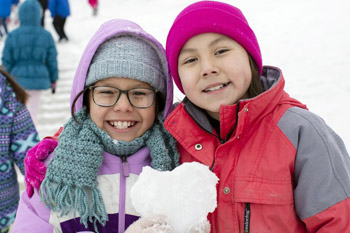 Black Friday. Small Business Saturday. Cyber Monday. Although dates that help people score great holiday deals, the days after Thanksgiving can be a little overwhelming.
But then, like a breath of fresh air, enters Giving Tuesday. Have you ever heard of it? It is a global day of giving that brings individuals from around the world together to make big change. This year, it takes place on November 30, and for the 24 hours that encompass the day, the focus shifts from "getting" to "giving."
Air-dry clay was the medium and sixth through eighth-grade students at St. Joseph's Indian School were the artists who enjoyed the guidance and wisdom of visiting artist Sculptor Darwin Wolf.
Their task: create sculptures of the animals that inhabit the South Dakota Prairies. The fist-sized finished products will find a home in the Native American Studies classroom, where they will be used to learn the Lakota names of the buffalo, turtle, coyote, eagle, spider and other creatures significant to Lakota cultural life.


You can be the reason Lakota Children Dream!
The DreamMakers are a special group of friends who give automatic monthly gifts to ensure the Lakota (Sioux) children are provided for year-round. For as little as 32 cents a day, 100% of your monthly contribution will go directly to helping meet our students' immediate needs … and will help provide dreams for the future.
Our Programs
Children attending St. Joseph's benefit from individualized care plans that follow nationally approved and accredited techniques. Friends who support St. Joseph's Native American programs help provide for every aspect of each child's physical, emotional, spiritual and educational needs.