The 45th Annual Powwow will be livestreamed on Facebook on September 18 at Noon CST at www.stjo.org/livepowwow. Campus remains closed to the public during the event.
About St. Joseph's Indian School
Since 1927, St. Joseph's Indian School has served Lakota (Sioux) children and families.
Our mission is to educate Native American children and their families for life — mind, body, heart and spirit. This mission drives our organization to educate and provide housing for over 200 Lakota (Sioux) children each year — all at no cost to their families.
Child poverty and abuse are serious issues on Indian reservations. By supporting St. Joseph's Indian School, you are helping Native American children in need reestablish pride in their culture by learning the Lakota language, studying Native American culture and healing the broken family circle from which they come.
Why Your Support Matters
If you're new to St. Joseph's Indian School and the struggles facing Native Americans living in reservation communities, the following information will help you get familiar with both. We hope after reading, you'll desire to help innocent Lakota children overcome the obstacles set against them. One by one, people like you are making work at St. Joseph's possible.
Stories from our Lakota Indian School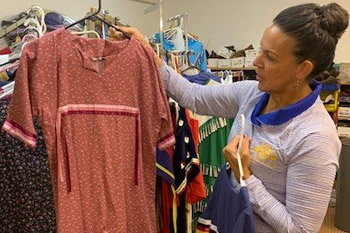 When LaRayne looked over the stock of children's powwow regalia at St. Joseph's Indian School, she noticed a limited amount of female Traditional and Jingle dresses.
LaRayne, St. Joseph's Native American Studies teacher, said popularity among the different powwow dances changes year to year. Some years, more girls want to dance Fancy, while other years Jingle or Traditional take the lead. Recently, that has been the case.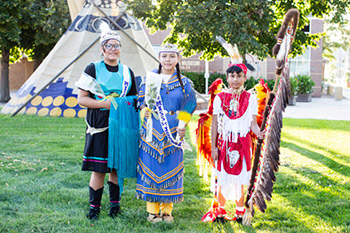 The 45th Annual St. Joseph's Indian School Wačhípi will take place on Saturday, September 18. The school has offered this cultural experience since the mid-1970s, though school records indicate students have performed traditional dance there since the 1950s.
Like this past year, the powwow will take place on campus but not be open to the public. Due to COVID-19 safety regulations, the event can only be viewed by live stream for the school's families and donors.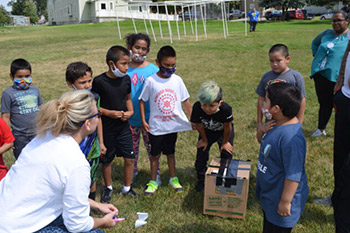 Frogs and kids were jumping for joy at St. Joseph's Indian School during the campus home frog races!
To participate, each home that signed-up for the races had to catch their own frogs. Catching a gnašká — frog — is not an easy job. They are wriggly, slimy and just when you think you are about to successfully sneak-up on the slippery little feller, it leaps away at the last second.


You can be the reason Lakota Children Dream!
The DreamMakers are a special group of friends who give automatic monthly gifts to ensure the Lakota (Sioux) children are provided for year-round. For as little as 32 cents a day, 100% of your monthly contribution will go directly to helping meet our students' immediate needs … and will help provide dreams for the future.
Our Programs
Children attending St. Joseph's benefit from individualized care plans that follow nationally approved and accredited techniques. Friends who support St. Joseph's Native American programs help provide for every aspect of each child's physical, emotional, spiritual and educational needs.