About St. Joseph's Indian School
Since 1927, St. Joseph's Indian School has served Lakota (Sioux) children and families.
Our mission is to educate Native American children and their families for life — mind, body, heart and spirit. This mission drives our organization to educate and provide housing for over 200 Lakota (Sioux) children each year — all at no cost to their families.
Child poverty and abuse are serious issues on Indian reservations. By supporting St. Joseph's Indian School, you are helping Native American children in need reestablish pride in their culture by learning the Lakota language, studying Native American culture and healing the broken family circle from which they come.
Stories from our Lakota Indian School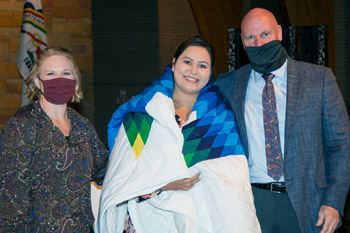 Four nurses nominated separately for St. Joseph's Indian School's Distinguished Alumnus Award were collectively selected as distinguished alumni, representing all health care workers and their role as beacons of hope throughout this pandemic year.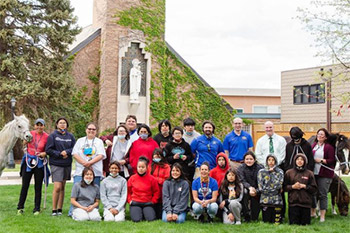 On a cloudy May afternoon, the seventh grade students of St. Joseph's Indian School huddled in prayer before embarking on the trip that has become a spiritual and cultural rite of passage for the school's students. The journey, which underwent some changes during the pandemic year, was unchanged in its tradition of forming these students into the school's leaders when school opens next fall.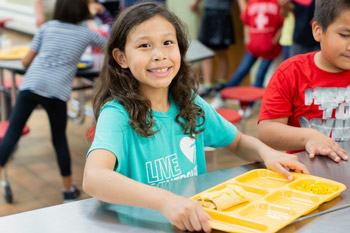 When you make spaghetti for your family, what does it look like? You likely grab a one-pound box of noodles, a pound or so of meat, a jar of sauce and maybe some other fixings — unless you make the sauce yourself. Easy-peasy, and dinner's on the table, right?


You can be the reason Lakota Children Dream!
The DreamMakers are a special group of friends who give automatic monthly gifts to ensure the Lakota (Sioux) children are provided for year-round. For as little as 32 cents a day, 100% of your monthly contribution will go directly to helping meet our students' immediate needs … and will help provide dreams for the future.
Our Programs
Children attending St. Joseph's benefit from individualized care plans that follow nationally approved and accredited techniques. Friends who support St. Joseph's Native American programs help provide for every aspect of each child's physical, emotional, spiritual and educational needs.