Helping Native American Families Since 1927
About our Organization
St. Joseph's Indian School is a Native American school dedicated to improving the quality of life for Lakota (Sioux) children and families. As an apostolate of the Congregation of the Priests of the Sacred Heart, St. Joseph's mission is to educate Native American children and their families for life — mind, body, heart and spirit. This mission drives our organization to educate and provide housing for approximately 200 Lakota (Sioux) children each year.
Poverty is a serious issue in reservation communities with the potential to fuel other negative issues — violence, addiction, neglect and more. By supporting St. Joseph's Indian School, you are helping Native American children connected with in their culture by learning the Lakota language, studying Native American heritage and traditions and healing the effects of generations of poverty.
Our organization provides an opportunity for Lakota (Sioux) children to change the cycle of poverty, with an education and opportunity of a brighter future.
All services and programs provided to students are free-of-charge, thanks to charitable contributions from generous supporters. Tax-deductible donations keep our doors open and provide approximately 200 Native American children safety, an education and love.
There are many ways to support our mission and help Lakota (Sioux) children in need! Tax-deductible gifts help Native American children in need receive:
A safe, stable home away from reservation hardships.
Individual counseling and guidance.
Carefully planned curriculum based on Lakota (Sioux) culture and individual student needs.
Tools to help build confidence, boost self-esteem and improve cultural awareness.
All of this and more to live a bright, productive and possibility-filled future.
If you have any questions about our organization, please check out our FAQ page.
St. Joseph's Strategic Plan: A Decade of Inclusion, 2020-2030
We walk alongside our students and their families as partners in their lives, education, and faith formation. To meet this mission, this 2020-2030 St. Joseph's Indian School Strategic Plan contains a bold vision to be national leaders in advancing Native American lives.
"Our strategic plan, appropriately titled Decade of Inclusion, is dynamic and challenges us in better serving our important Mission. It is inclusive to all associated with our work and speaks to welcoming, belonging and acceptance."
Our Decade of Inclusion Challenges Us:
To partner with our students, their families and supporters to meet the strategic vision of national leadership, we will implement these four primary strategies: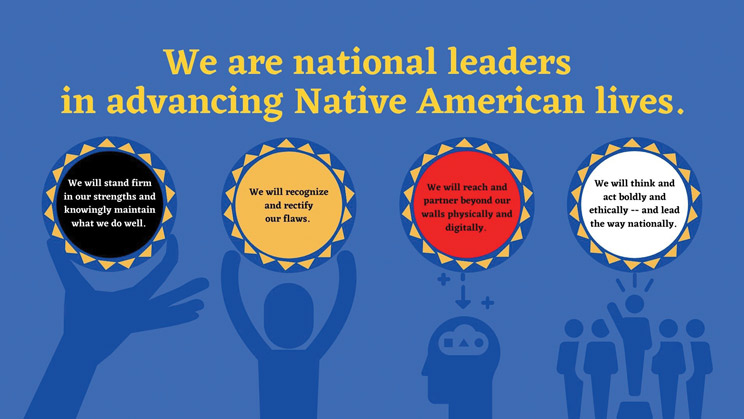 We will recognize and keep doing what we do well, improve upon our flaws, reach beyond our walls, and go boldly into the national conversation regarding Native life. We will be actively present in shaping our internal systems and showcase our mission on the national stage. We will take action. We will lead. We will be St. Joe Strong.
Within This Vision Are Several Bold Goals
Development of new measurements of student achievement based on Indigenous knowledge systems and St. Joseph's Indian School's expertise in teaching.
Development of partnerships with nationally-recognized universities and foundations to share and increase knowledge, drive innovation and build human capacity within St. Joseph's Indian School leadership.
Continue to build a broader array of services and outreach planning between St. Joseph's Indian School and our alumni and thiyóšpaye — extended family.
Development of a St. Joseph's Indian School-specific approach to addressing boarding school history.
Development of a larger St. Joseph's Indian School outreach strategy with a physical and digital footprint, providing additional educational opportunities and social interaction space.
Development of a national media strategy for the Development Office.