St. Joseph's career opportunities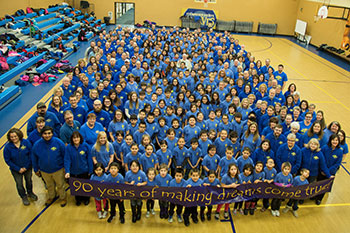 Employment at St. Joseph's is more than a job — it is life's great work!
From houseparenting to teaching, there is always work to be done at St. Joseph's Indian School!
Joining our team requires commitment to excellence, a positive attitude and respect for the Lakota (Sioux) culture. We seek individuals with the following qualities:
Extreme dedication
Enormous capacity to share and care
Team player for betterment of each child
Participation and appreciation of Lakota culture and spiritual development
Sense of mission in helping others less fortunate
Ability to motivate young people to think, respond and learn
Good stamina
A preference for order
Your interest is appreciated!
Chamberlain employment opportunities
Child Services Staff (Residential Staff)
Single or married
Strong role models
Emotional and physical support
Family-oriented
Two staff members per home (12 students)
10 month contract
Rotating schedule (six days on/three off)
We welcome all qualified applications and will keep on file for one year.
Apply now »
---
To apply, please send resume to:
Attn: Mandy McLaughlin
PO Box 776
Chamberlain, SD 57325
Email: Mandy.McLaughlin@stjo.org
Sioux Falls employment opportunities
Mission Advocate I
Summary of Position:
The Mission Advocate is a multi-faceted position focused on revenue generation and exceptional donor service. This is a nonexempt position.
Accountability:
Reports to the Mission Advocate Supervisor
Core Responsibilities:

Represents St. Joseph's Indian School and our mission in a positive and professional manner at all times, treating donors with the utmost respect — exceeding their expectations with every contact.
Responsibilities:
Comprehensively communicates verbally and in writing the mission, programs, and events of St. Joseph's Indian School in an articulate manner.
Successfully requests and secures financial contributions from active and lapsed donors.
Conducts research of donor files to learn donor preferences, attitudes, and feelings towards our mission and programs.
Participates in quality assurance reviews and calibrations as needed.
Adheres to the posted schedule of arrival and break times to ensure adequate coverage while maintaining daily goals.
Accurately documents Donor contact and updates required Customer Service software.
Coordinates the processing of special donor requests to ensure prompt fulfillment.
Fields incoming daily call volumes, meeting and exceeding productivity goals, delivering top-level performance, and achieving quality standards.
Make outbound calls to donors on behalf of St. Joseph Indian School with the purpose of gaining funds and thanking a contributor for their donation.
Utilizes the appropriate scripting and technologies to provide customers with professional and courteous call resolution.
Participates in regular team meetings to discuss call results, donor feedback, etc.
Performs other responsibilities as required by the Mission Advocate Supervisor.
Minimum Qualifications:
High School graduate or equivalent. College education or experience with non-profit preferred.
Prior customer care experience is highly desired.
Must be able to successfully pass a criminal background check.
Skills:
Strong organizational and interpersonal skills.
Excellent communication skills, both oral and written.
Ability to contribute to a positive and supportive work environment.
Ability to provide service excellence and empathy
Must utilize active listening skills, be detail oriented, and communicate effectively and accurately with the utmost professionalism.
Must be able to multitask; maintaining verbal communication quality standards while adhering to internal procedures using a computer and a variety of systems.
Must be able to efficiently learn and use multiple internal computer applications.
Basic typing skills required (35 wpm or more with high accuracy).
Must be able to work in a work environment of variable pacing.
Needs patience when dealing with donors.
Should be a self-motivated team player of excellent character and personal integrity.
Needs to display an energetic and enthusiastic personality.
Must be able to learn and demonstrate a general understanding of Native American culture.
Must be able to communicate the mission of St. Joseph's Indian School in-depth.
Physical Demands:
Uses both hands and wrists repetitively for prolonged periods
Apply now »
---
To apply, please send resume to:
Attn: Mandy McLaughlin
PO Box 776
Chamberlain, SD 57325
Email: Mandy.McLaughlin@stjo.org
St. Joseph's employee benefits
St. Joseph's Indian School is fortunate to be seated on the banks of the beautiful Missouri River, located in Chamberlain, South Dakota.
Chamberlain's population is about 2,350, and we are grateful to be part of a small, caring community. Chamberlain offers a thriving retail community, an excellent school system, hospital and numerous recreation opportunities.
As one of the largest employers in Chamberlain, St. Joseph's Indian School recognizes its standing in an aggressive job market.
Accordingly, we offer competitive salaries — plus one of the best benefit packages available in the area — beyond benefits required by law. All full-time regular employees are eligible for these benefits.
For your information, the terms we use have the following definitions:
Benefits — Compensatory contributions provided by the employer in addition to regular pay
Eligibility — Applies in general, full-time, regular employees; specific benefits may have specific requirements
---
Benefits regularly required by law
Social Security and Medicare
Worker's Compensation
Family Medical Leave Act (FMLA) — Employees can take up to 12 weeks off unpaid for a family medical emergency.
---
Time off with pay
Holiday Pay — St. Joseph's Indian School observes several national and religious holidays each year, as determined by the management team
Accrued leave is for year round employees based on years of service
Granted leave is for all full time regular employees based on years of service
Maternity Leave — Six weeks at 60%; can take an additional six weeks of unpaid leave; employee must have one year of service at time of leave
Jury Duty/Court Time — Receive regular pay
---
Group Insurance Benefits
Life and Accidental Death and Disability — 2 times salary for employee; $10,000 for spouse; up to $5000 for child; accidental death double indemnity for employee
Voluntary Life
Health — Comprehensive medical plans available — Traditional & HDHP with HSA; modest premiums
Dental — Modest premiums
Vision — Modest premiums
Disability — Both long-term and short-term
COBRA — Consolidated Omnibus Budget Reconciliation Act (COBRA) of 1985 provides continuous health benefits; follows all Federal Law requirements
---
Retirement Benefit
Pension Plan — Provided through the U.S. Province of the Priests of the Sacred Heart; a noncontributory fund; employee is vested after five years of continuous service
TSA — A tax sheltered annuity plan through a payroll deduction is available to interested employees
---
Other Services
Free clinical services — With qualified medical staff for employees and family members
Annual physical free
Employee Assistant Program (EAP) — counseling service for employees and family members at no cost
Recreation/Wellness Center — available to employees and family members
Akta Lakota Museum & Cultural Center — offers 20% employee discount
Various activities including Dave Ramsey Financial Fitness, yoga and other groups
---
Note: Keep in mind the preceding is just an overview.
In addition to its benefits package, we offer an atmosphere of community in which employees and their families are active participants.
Annual employee events include the Christmas party, service awards banquet and staff appreciation breakfasts.
Families are invited to participate in some campus activities and encouraged to take advantage of family hours at the Recreation/Wellness Center.