St. Joseph's career opportunities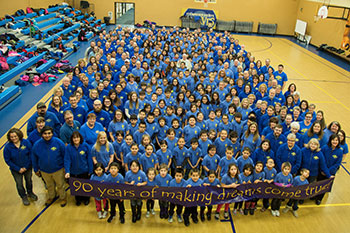 Employment at St. Joseph's is more than a job — it is life's great work!
From houseparenting to teaching, there is always work to be done at St. Joseph's Indian School!
Joining our team requires commitment to excellence, a positive attitude and respect for the Lakota (Sioux) culture. We seek individuals with the following qualities:
Extreme dedication
Enormous capacity to share and care
Team player for betterment of each child
Participation and appreciation of Lakota culture and spiritual development
Sense of mission in helping others less fortunate
Ability to motivate young people to think, respond and learn
Good stamina
A preference for order
Your interest is appreciated!
Chamberlain employment opportunities
Youth Caregiver (Residential Staff)
Single or married
Strong role models
Emotional and physical support
Family-oriented
Two staff members per home (12 students)
10 month contract
Rotating schedule (six days on/three off)
We welcome all qualified applications and will keep on file for one year.
Apply online »
Download application »
---
Web Developer
Summary of Position:
The Web Developer is responsible for the technical aspects related to our online eMarketing systems. This includes creating campaign pages, maintenance, updates, troubleshooting, graphics and organization of the school's websites as well as production of email correspondence. This is a non-exempt position.
Accountability:
Reports to the Director of Integrated Marketing
Responsibilities:

Responsible for designing, developing and maintaining websites as necessary while incorporating data from back-end databases for all the CPOSH online initiatives including but not limited to St. Joseph's Indian School and Akta Lakota Museum.
Responsible for developing all marketing related emails as directed by the Director of Integrated Marketing.
Monitors and reports on website content, email statistics and paid search efforts to reach strategically identified goals.
Responsible for creating, updating and troubleshooting complex queries, groups for emails and updating constituent records in order to maintain data integrity.
Maintain updated knowledge of new and emerging industry trends and technology in order to keep our online programming and marketing efforts up-to-date.
Assists the Director of Integrated Marketing in keeping online schedules up-to-date and other departments informed of online campaigns.
Performs other tasks as required by the Director of Integrated Marketing.
Qualifications:
Must be proficient in Microsoft Applications, web applications and programming languages such as HTML, CSS, JavaScript, JQuery and API's.
Must have a strong understanding of UI, cross-browser compatibility, general web functions and standards.
Bachelors preferred or 5 years of experience required.
Physical Demands:
Uses both hands and wrists repetitively for prolonged periods.
Download application »
---
SPED Teacher
Summary of Position:
The SPED Teacher is responsible for the instruction of students, organization of instructional lessons and implementation of the education curriculum, while being a contributing member of the community. The position is also responsible for paperwork specific to the SPED program. This is an exempt position.
Accountability:
Reports to the Director of Education
Core Responsibilities:

Implements the educational curriculum as prescribed through written action plans. Ensures that lesson plans correlate with established plans of study and contain specific instructional objectives and reflections.
Works with Special Education and general education staff to develop, implement, and monitor individual education plans.
Accurately evaluates and records student achievement and progress for reporting to the administration and team members serving the child.
Uses differentiated instruction to meet the needs of students.
Promotes teamwork and open communication through regular participation in discussions with other staff who also directly supervise student, i.e. houseparents, other teachers, Family Services Counselors, and families of students.
Qualifications:
Four year degree in Education
South Dakota teaching certification
Physical Demands:
Uses both hands and wrists repetitively for prolonged periods.
Download application »
---
Health Center Nurse
Summary of Position:
The Health Center Nurse is responsible for providing general nursing services to clients of St. Joseph's Indian School including students, staff, and staff dependents. The position participates in all aspects of the Health Center's functions and procedures. This is an exempt position.
Accountability:
Reports to the Director of Health and Wellness
Core Responsibilities:

Leads student dental appointments, and assists vision-lead as necessary and appropriate, including scheduling, follow-up, referral coordination, complicated cases, and guardian notification.
Assists support staff in transportation needs including schedule oversight, personnel, and Director-approval for travel expenses.
Oversees and maintains laboratory functions for supply and quality control including vaccine fridge tasks per state regulations, staff diagnostic procedure yearly competencies, supply upkeep, quality assurance testing on supplies, expiration management, and communication with contracted lab manager.
Qualifications:
South Dakota Nursing License as LPN or RN
Pass Certified Background Check
Physical Demands:
Uses both hands and wrists repetitively for prolonged periods.
Download application »
---
To apply, please send resume to:
Attn: Allyssa Hoffer
PO Box 776
Chamberlain, SD 57325
Email: apply@stjo.org
Sioux Falls employment opportunities
Mission Advocate
Job Description

Seeking High Quality Mission Advocates
Day hours working with supporters over the phone. Tired of nights and weekends?
Want to spend more time with your family while making a difference for others?
No nights
8AM – 5PM Work Day No Mandatory Overtime
No Weekends
Monday – Friday hours
Better Benefits
Health, Vision, Dental, Life ins and retirement. Paid holidays and more
Perks
Remote work rotations based on achieving quality standards
Communication with supporters of our mission to help Native American youth and families.
Work with Donors to accept donations, request support, build monthly financial relationships.
Opportunity to learn and demonstrate a general understanding of Native American culture.
Make outbound calls to donors on behalf of St. Joseph Indian School with the purpose of gaining funds and thanking a contributor for their donation.
Be part of some pretty amazing pot lucks!
Minimum Qualifications
High School graduate or equivalent. College education or experience with non-profit preferred.
Prior customer care experience is highly desired.
Excellent communication skills, both oral and written.
Physical Demands
Uses both hands and wrists repetitively for prolonged periods.
Download application »
---
To apply, please send resume to:
Attn: Allyssa Hoffer
PO Box 776
Chamberlain, SD 57325
Email: apply@stjo.org
St. Joseph's employee benefits
St. Joseph's Indian School is fortunate to be seated on the banks of the beautiful Missouri River, located in Chamberlain, South Dakota.
Chamberlain's population is about 2,350, and we are grateful to be part of a small, caring community. Chamberlain offers a thriving retail community, an excellent school system, hospital and numerous recreation opportunities.
As one of the largest employers in Chamberlain, St. Joseph's Indian School recognizes its standing in an aggressive job market.
Accordingly, we offer competitive salaries — plus one of the best benefit packages available in the area — beyond benefits required by law. All full-time regular employees are eligible for these benefits.
For your information, the terms we use have the following definitions:
Benefits — Compensatory contributions provided by the employer in addition to regular pay
Eligibility — Applies in general, full-time, regular employees; specific benefits may have specific requirements
---
Benefits regularly required by law
Social Security and Medicare
Worker's Compensation
Family Medical Leave Act (FMLA) — Employees can take up to 12 weeks off unpaid for a family medical emergency.
---
Time off with pay
Holiday Pay — St. Joseph's Indian School observes several national and religious holidays each year, as determined by the management team
Accrued leave is for year round employees based on years of service
Granted leave is for all full time regular employees based on years of service
Maternity Leave — Six weeks at 60%; can take an additional six weeks of unpaid leave; employee must have one year of service at time of leave
Jury Duty/Court Time — Receive regular pay
---
Group Insurance Benefits
Life and Accidental Death and Disability — 2 times salary for employee; $10,000 for spouse; up to $5000 for child; accidental death double indemnity for employee
Voluntary Life
Health — Comprehensive medical plans available — Traditional & HDHP with HSA; modest premiums
Dental — Modest premiums
Vision — Modest premiums
Disability — Both long-term and short-term
COBRA — Consolidated Omnibus Budget Reconciliation Act (COBRA) of 1985 provides continuous health benefits; follows all Federal Law requirements
---
Retirement Benefit
Pension Plan — Provided through the U.S. Province of the Priests of the Sacred Heart; a noncontributory fund; employee is vested after five years of continuous service
TSA — A tax sheltered annuity plan through a payroll deduction is available to interested employees
---
Other Services
Free clinical services — With qualified medical staff for employees and family members
Annual physical free
Employee Assistant Program (EAP) — counseling service for employees and family members at no cost
Recreation/Wellness Center — available to employees and family members
Akta Lakota Museum & Cultural Center — offers 20% employee discount
Various activities including Dave Ramsey Financial Fitness, yoga and other groups
---
Note: Keep in mind the preceding is just an overview.
In addition to its benefits package, we offer an atmosphere of community in which employees and their families are active participants.
Annual employee events include the Christmas party, service awards banquet and staff appreciation breakfasts.
Families are invited to participate in some campus activities and encouraged to take advantage of family hours at the Recreation/Wellness Center.