St. Joseph's career opportunities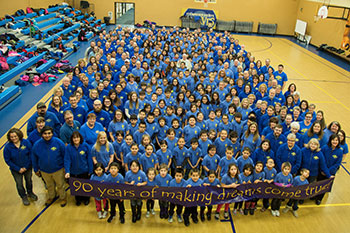 Employment at St. Joseph's is more than a job — it is life's great work!
From houseparenting to teaching, there is always work to be done at St. Joseph's Indian School!
Joining our team requires commitment to excellence, a positive attitude and respect for the Lakota (Sioux) culture. We seek individuals with the following qualities:
Extreme dedication
Enormous capacity to share and care
Team player for betterment of each child
Participation and appreciation of Lakota culture and spiritual development
Sense of mission in helping others less fortunate
Ability to motivate young people to think, respond and learn
Good stamina
A preference for order
Your interest is appreciated!
Chamberlain employment opportunities
Child Services Staff (Residential Staff)
Single or married
Strong role models
Emotional and physical support
Family-oriented
Two staff members per home (12 students)
10 month contract
Rotating schedule (six days on/three off)
We welcome all qualified applications and will keep on file for one year.
Apply now »
---
Pastoral Administrative Assistant
Office in Lower Brule, SD
Summary of Position:
This position performs administrative support functions for the SCJ Parishes. This is a part-time nonexempt position.
Accountability:
Reports to the Pastor
Responsibilities:

Assists with administration of parish correspondence.
Assists with basic financial records. Prepares a bank deposit every Monday morning.
Is responsible for the preparation and distribution of sacramental certificates.
Prepares weekly parish bulletin.
Qualifications:
High School Diploma or equivalent
Has a working knowledge of Catholic Corporate Culture (BFOQ)
Basic Computer Literacy (Microsoft Word & Excel)
Apply now »
---
Production Support
Summary of Position:
Responsible for the operation of the inserting machines, under the guidance of the technical support, to assemble mail for posting.
Accountability:
Reports to the Production Manager
Core Responsibilities:

Unpacks and prepares for assembly materials for use on the inserting machines.
Keeps all inserting machine feeders filled to insure a smooth and unbroken machine operation according to the set production standards.
Prepares mail for the Post Office according to the U.S. Postal Service guidelines, and policies and procedures of the Development Office.
Working Conditions:
Position requires frequent bending, lifting, and carrying bundles weighing up to 35 lbs. and occasionally 50 lbs.
Bulk of work is done while standing.
Qualifications:
High School Degree or equivalent preferred
Apply now »
---
Associate Native American Studies Teacher
Summary of Position:
The Native American Studies Associate works in conjunction with the Native American Studies Lead promoting Native American Studies across campus and as part of community outreach. Responsibilities include instruction of students, staff development, curriculum development and oversight of off-campus activities.
Accountability:
Reports to the Native American Studies Lead
Responsibilities:

Assists with the development and implementation of a Native American Studies curriculum to be integrated in the school curriculum and across all programmatic aspects of Child Services (Homes, Clinical Services, etc.).
Assists with student instruction for Native American Studies in the school.
Conveys clear behavioral expectations to students and monitors compliance in the classroom.
Develops lesson plans.
Accurately evaluates and records student achievement and progress for reporting to the student parents/guardians, administration and staff servicing the child.
Assists with cultural activities and ceremonies across campus (i.e. Student Cultural Trip, Inipi, etc.).
Qualifications:
BA in Native American Studies or other related field
Knowledge of Native American culture and traditions
Experience working with Native American students
Apply now »
---
To apply, please send resume to:
Attn: Mandy McLaughlin
PO Box 776
Chamberlain, SD 57325
Email: Mandy.McLaughlin@stjo.org
Sioux Falls employment opportunities
There are currently no open positions in Sioux Falls at this time.
---
To apply, please send resume to:
Attn: Mandy McLaughlin
PO Box 776
Chamberlain, SD 57325
Email: Mandy.McLaughlin@stjo.org
St. Joseph's employee benefits
St. Joseph's Indian School is fortunate to be seated on the banks of the beautiful Missouri River, located in Chamberlain, South Dakota.
Chamberlain's population is about 2,350, and we are grateful to be part of a small, caring community. Chamberlain offers a thriving retail community, an excellent school system, hospital and numerous recreation opportunities.
As one of the largest employers in Chamberlain, St. Joseph's Indian School recognizes its standing in an aggressive job market.
Accordingly, we offer competitive salaries — plus one of the best benefit packages available in the area — beyond benefits required by law. All full-time regular employees are eligible for these benefits.
For your information, the terms we use have the following definitions:
Benefits — Compensatory contributions provided by the employer in addition to regular pay
Eligibility — Applies in general, full-time, regular employees; specific benefits may have specific requirements
---
Benefits regularly required by law
Social Security and Medicare
Worker's Compensation
Family Medical Leave Act (FMLA) — Employees can take up to 12 weeks off unpaid for a family medical emergency.
---
Time off with pay
Holiday Pay — St. Joseph's Indian School observes several national and religious holidays each year, as determined by the management team
Accrued leave is for year round employees based on years of service
Granted leave is for all full time regular employees based on years of service
Maternity Leave — Six weeks at 60%; can take an additional six weeks of unpaid leave; employee must have one year of service at time of leave
Jury Duty/Court Time — Receive regular pay
---
Group Insurance Benefits
Life and Accidental Death and Disability — 2 times salary for employee; $10,000 for spouse; up to $5000 for child; accidental death double indemnity for employee
Voluntary Life
Health — Comprehensive medical plans available — Traditional & HDHP with HSA; modest premiums
Dental — Modest premiums
Vision — Modest premiums
Disability — Both long-term and short-term
COBRA — Consolidated Omnibus Budget Reconciliation Act (COBRA) of 1985 provides continuous health benefits; follows all Federal Law requirements
---
Retirement Benefit
Pension Plan — Provided through the U.S. Province of the Priests of the Sacred Heart; a noncontributory fund; employee is vested after five years of continuous service
TSA — A tax sheltered annuity plan through a payroll deduction is available to interested employees
---
Other Services
Free clinical services — With qualified medical staff for employees and family members
Annual physical free
Employee Assistant Program (EAP) — counseling service for employees and family members at no cost
Recreation/Wellness Center — available to employees and family members
Akta Lakota Museum & Cultural Center — offers 20% employee discount
Various activities including Dave Ramsey Financial Fitness, yoga and other groups
---
Note: Keep in mind the preceding is just an overview.
In addition to its benefits package, we offer an atmosphere of community in which employees and their families are active participants.
Annual employee events include the Christmas party, service awards banquet and staff appreciation breakfasts.
Families are invited to participate in some campus activities and encouraged to take advantage of family hours at the Recreation/Wellness Center.