Over 90 years serving Lakota children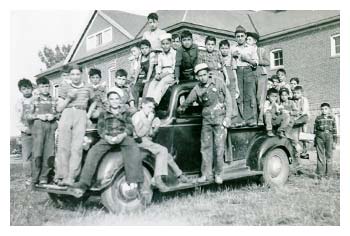 It is difficult to conceive, walking the grounds of St. Joseph's Indian School, how many trials the small educational facility has endured since 1927.
The blue-green stretch of Missouri River here offers no hint of the dust storms and grasshopper plagues of the Great Depression. The tall trees catching the morning sun don't speak of the tornadoes of 1930 and 1931. And, the happy laughter of children playing makes it hard to remember the crackle of fires or bang of hammers rebuilding through the years.
Click the links below and travel back into history and learn the story of St. Joseph's Indian School.