You can be the reason Lakota Children Dream!
Life on some South Dakota Indian Reservations means many children are in survival mode. The environment — filled with poverty, drug and alcohol abuse and gang activity — only allows these young children to live day-to-day. They aren't dreaming about their future, because they aren't sure what tomorrow will bring.
To dream about the future, they need courage … they need strength. They need a DreamMaker.
That's where you can help. With your monthly support to St. Joseph's Indian School, Lakota children can stop worrying about where their next meal is coming from, whether they'll have a bed to sleep in or clothes on their back. YOU can help take care of their day-to-day needs so they can dream of a brighter future for themselves.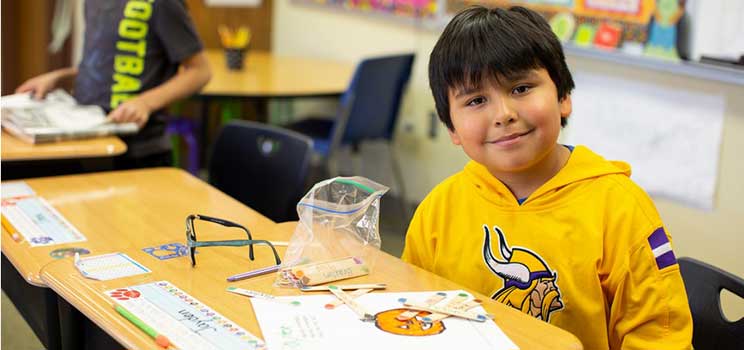 The DreamMakers are a special group of friends who give automatic monthly gifts to ensure the Lakota (Sioux) children are provided for year-round. For as little as 32 cents a day, 100% of your monthly contribution will go directly to helping meet our students' immediate needs … and will help provide dreams for the future.
Your ongoing gift provides a home with necessities some of the children have never experienced before. This includes having their own bed and food in kitchen cupboards, to educational lessons in Lakota culture, religion and other vital curriculum.
Our goal is to ensure each child graduates with a comprehensive education, prepared to achieve their dreams for the future. You can help make these dreams come true by becoming a monthly donor and member of the DreamMakers!
Being a DreamMaker has other benefits too! As a member of our monthly program, you will receive:
Monthly updates from St. Joseph's to show how your generosity provides dreams for the future.
A DreamMaker's membership card granting you free entry to our donor luncheons and 10% off every purchase at the Akta Lakota Museum & Cultural Center Gift Store.
A personal thank you call from your own dedicated team of DreamMaker support staff; they are ready to answer your questions.
The Lakota children need you. Will you be their DreamMaker?