General Information About Our Native American Students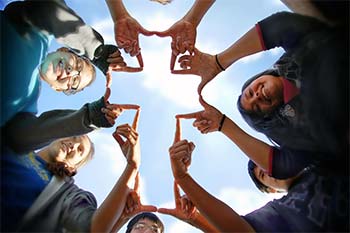 Native American students fill our school's 21 homes. Unfortunately, over 100 other American Indian youth are on our waiting list.
To be admitted, children must be of Native American heritage, and be in grades one through 12. Admission is based on need, and many of our Lakota students have the following characteristics:
Approximately 23.2% of our American Indian students are enrolled in the Lower Brule Tribe, 16.6% in the Crow Creek Tribe, and 22.7% in the Rosebud Indian Tribe.
Many of our Native American students come from very poor families. The median household income on the Lower Brule Reservation is $20,263 and $13,750 on the Crow Creek Reservation.
Approximately 58.8% of our Lakota students are Catholic, 16.1% are Episcopal, 8.1% practice traditional Lakota spirituality and 14.7% have no religious affiliation.
Suicide is an epidemic for Native American youth. In fact, for several years, suicide has been the second leading cause of death (behind unintentional injuries) and the suicide rate for Indian youth aged 15-24 has been at or near four times the national average.
Native American children's exposure to substance abuse and domestic violence is increasing. Approximately 55% of our students have been exposed to drug and alcohol use and 41% have witnessed domestic violence.
But there is hope … since 1927, St. Joseph's Indian School has been working with Native American youth and their families to educate and support for life — mind, body, heart and spirit. For over 90 years, reaching out to American Indian youth on Indian reservations and beyond has remained our top priority.
By supporting St. Joseph's Indian School, you are helping Native American students in need regain pride in their Lakota (Sioux) heritage by learning the Lakota language, studying Native American culture and learning ways they can grow and prosper.
Tax-deductible gifts help our Lakota students receive:
A safe, stable home away from reservation hardships
Individual counseling and guidance
Carefully planned curriculum based on Lakota (Sioux) culture and individual student needs
Tools to help build confidence, boost self-esteem and improve cultural awareness
And MORE to help our students believe in a productive, possibility-filled future!
Thank you for your support.