Life after St. Joseph's Indian School

---
"When you know who you are; when your mission is clear and you burn with the inner fire of unbreakable will; no cold can touch your heart; no deluge can dampen your purpose. You know that you are alive."
— Chief Seattle
---
Where do the Lakota (Sioux) students go after they graduate from St. Joseph's Indian School? What are they doing now?
The answer: Everywhere and Everything!
St. Joseph's students have made careers in every career field you could ever imagine, some of which include healthcare, education, counseling, advocacy, military and/or dedicated parents.
Our alumni are truly making a difference thanks to the HOPE you have provided with your love, concern and generosity. Keep reading to learn more about their achievements!
---
"St. Joseph's challenged me and really helped develop my love of learning. Back home in my reservation community, I wouldn't have had to try so hard to get straight A's. St. Joseph's expects a lot from you and helps you get there."
— Christian, St. Joseph's alum
---
It's important to stay in touch with graduates when they set off on the next chapter of their lives. With the assistance of St. Joseph's Transition Specialist and Alumni Coordinator, graduates are provided support and guidance even after they leave campus. They remain a part of our thiyóšpaye — extended family. Watching them become confident, strong and capable adults is such a blessing, and would not be possible without the students' determination and the generosity of others.
---
---
"Without a stable home and loving faculty at both St. Joseph's and the college I've chosen, I would not be as successful. Without my family, my friends, and even the people whose agenda was to bring me down, I wouldn't be me. I do what I do for all of you, and thank you."
— Danielle, St. Joseph's alumna
---
Every year, St. Joseph's Indian School honors one alumnus who is making a difference in their communities and the world! Choosing just one person to honor is difficult, but alas, one special recipient is chosen and invited to a ceremony during eighth grade graduation. There, they receive a plaque and star quilt to commemorate the award. Here is a look at past Distinguished Alumnus Award winners.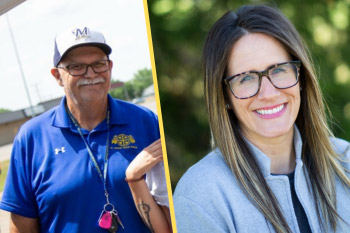 If you, or someone you know, attended St. Joseph's Indian School, we'd love to hear from you!
There are several options … just pick the one right for you.
Email: You can include where you are now and what you're doing, or simply say hi!
Mail: Send a note to our Alumni Liaison at:
St. Joseph's Indian School
Attn: Kista Lepkowski and Andy Lepkowski
P.O. Box 89
Chamberlain, SD 57325.
Phone: Call us toll-free at 1-800-341-2235 and ask to speak with Krista and Andy in Alumni Relations.
We would love to hear from you! As alumni, we count on you to help better St. Joseph's programs and services through your personal experience and testimonies. We look forward to your questions, comments and suggestions!
Follow us on Facebook® at our Alumni of St. Joseph's Indian School page!