A future for Lakota children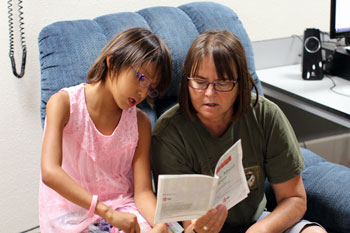 Education and Services
No tuition is charged and St. Joseph's Indian School provides for all the needs of approximately 200 Native American students. Everything from food and clothing to education, counseling and healthcare is provided.
Loving houseparents live in the homes with 12 children. With a 6:1 student adult ratio, the children receive quality care and attention. We have 20 student homes.
Our elementary school has small class sizes (12 students) and one-on-one attention. The students are taught all of the basics along with Lakota Studies and religious education.
Our high school students attend Chamberlain High School and receive support of houseparents and group home living on St. Joseph's campus. In high school, the Native American students take part in a variety of activities and are integrated into a culturally diverse atmosphere to encourage future success.
Family and Culture
The Lakota culture is held in high regard at the school and is incorporated into our daily programs. Our students have their own drum group, and a number of children regularly dance in powwows across the state. Each fall we host our signature American Indian Day powwow — wačhípi — weekend.
Our Sacred Hoop Thiyóšpaye Center offers families a place to stay when they visit. Families are welcome any time, but receive special invitations for meetings regarding their students and family activities on campus, like our annual powwow and sobriety events.
The Akta Lakota Museum & Cultural Center is open year-round to share Lakota culture with visitors from around the world.
St. Joseph's outreach programs extend across South Dakota. Through your gifts, we are also able to help provide programs and services to Lakota (Sioux) families on reservations throughout South Dakota.
For more information, view our Business Summary.