St. Joseph's Indian School students take part in sacred ceremony
---
On December 26, 1862 at 10:00am, 4,000 spectators gathered in the town square at Mankato, Minnesota. As 38 Dakota men took their places on the scaffold, their voices rang a Dakota song. When white coverings were pulled over their faces, the men grasped each other's hands. With a single ax blow, the rope holding the platform was cut.
On September 28, 1862, a commission of military officers began trying Dakota men accused of participating in the US-Dakota War of 1862. On November 5, the trials were complete — 303 prisoners were sentenced to death and 16 were given prison terms.
After trial transcript reviews by President Abraham Lincoln and government lawyers, the largest mass execution in United States history was ordered to take place the day after Christmas, December 26, 1862. Thirty-eight Dakota Akicita — warriors — were hanged.
---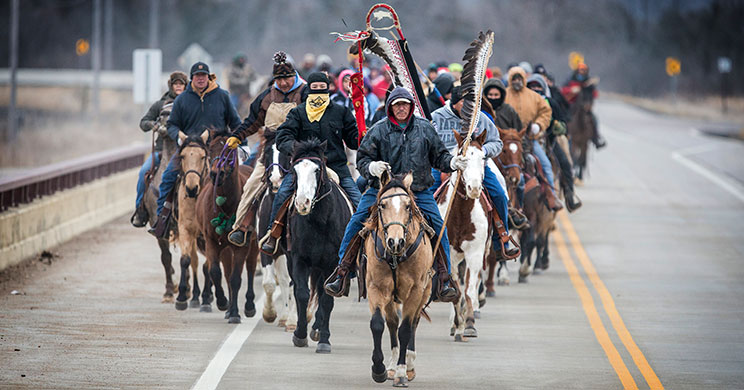 In 2005, Jim Miller, a Native spiritual leader, dreamt of a spiritual journey by horse. Through Jim's dream, a spiritual journey and annual sacred ceremony began.
The Dakota 38+2 Reconciliation Ride began in 2005 and has continued every year to promote reconciliation between American Indians and non-Native People. Horseback riders, runners and supporters alike make the 330-mile journey from Lower Brule, South Dakota to Mankato, Minnesota during the dead of winter. A riderless "spirit horse" completes the journey as well, representing the ancestors among the Memorial Riders as well as those who lost their lives in the executions.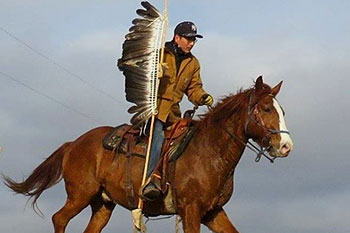 In addition to promoting healing and reconciliation, the Spiritual Journey seeks to provide healing from historical trauma, remember and honor the 38+2 who were hanged, bring awareness of Dakota history and to promote youth rides and healing.
This year, 2016, marks the eleventh anniversary of the ride.
St. Joseph's Indian School is proud to have multiple students and staff members partaking in the Spiritual Journey.
"That's what this ride is about … it's about healing."
In 2007, the Smooth Feather Productions film crew joined the Sacred Ceremony and created an award-winning documentary of the journey, Dakota 38. You can view the full-length film here.