Powwow Etiquette
(from our pamphlet, "Making the Most of your Powwow Experience")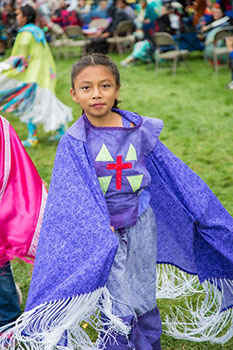 Powwow etiquette at its most basic is simply the use of common courtesy and respect for others.
Every powwow is different. However, most gatherings are either a traditional wačhípi — dance, or the more contemporary powwow contest. Traditional powwows honor groups or individuals and may include a special ceremony. Contest powwows are typically larger, competitive events and provide prize money for dancers. Some powwows are both. Nevertheless, one thing they have in common are expectations and general rules, also known as powwow etiquette.
Listen
Powwows can be very busy events with lots of action going on at once, which is why one of the first expectations of powwow etiquette is to listen carefully. The Master of Ceremonies may announce it's time to stand and remove your hat for an honor song. Please follow the request just as you would for the National Anthem. The Master of Ceremonies will also tell you who is to dance and whether the audience may participate. Remember to allow elders to go first and listen carefully whenever they speak.
Show Respect
Items carried or worn by dancers should be called outfits or regalia. Dancers dress to honor the spiritual connection they have with nature and Wakȟáŋ Tȟáŋka — Great Spirit. Outfits can sometimes take years to put together. Each piece is intricate; they can be costly and may be family heirlooms. Please do not refer to these cherished possessions as a "costume."
Spectators should also show respect for dancers by asking permission before taking a photo or touching any part of their regalia. Politely ask permission if you want to use a camera or record video. Pictures or recordings should only be used for personal purposes — not commercial.
Alcohol and drug use are not allowed.
Participate
Most Native Americans are glad to share their culture with those who are genuinely interested. A good way to learn is to find a friendly participant and ask questions. Pay attention to the Master of Ceremonies and to what people around you are doing, and you will have no problems enjoying the powwow!
Want to learn more? Download our free booklet now — Making the Most of your Powwow Experience!
Register to attend St. Joseph's powwow in September!