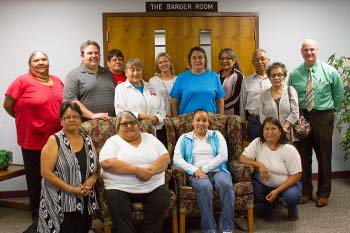 Parents and guardians seek St. Joseph's Indian School for their children for many reasons. Some families need a helping hand for a short time when tragedy strikes. Other families have fallen on such hard times that they see St. Joseph's as their only hope to break the cycle of poverty for their children.
Because families are such an integral part of a child's healing and growth, St. Joseph's relies on members of our Parent Advisory Council to offer us insight and feedback on programs, services and challenges.
Their perspective is priceless as we work to ensure holistic care and individual attention for each precious child in our care.
The 12 members of our council advise us in crucial areas like high school education, alumni programs, grief counseling and issues our students face including abandonment and racism. They gather regularly to review policy and offer suggestions so we can keep improving the programs at St. Joseph's.
Thanks to this group of parents and guardians, families have an important voice at St. Joseph's Indian School. We are grateful for their support and insight.