Apostolate of Prayer Program
The Apostolate of Prayer program works to promote prayer and spiritual values and to provide opportunities to express faith in the Gospel by embracing St. Joseph's Apostolate of Prayer ministry.
We are grateful for your prayers for our children, families, staff and mission. In turn, we pray for your special intentions and blessings on those you love.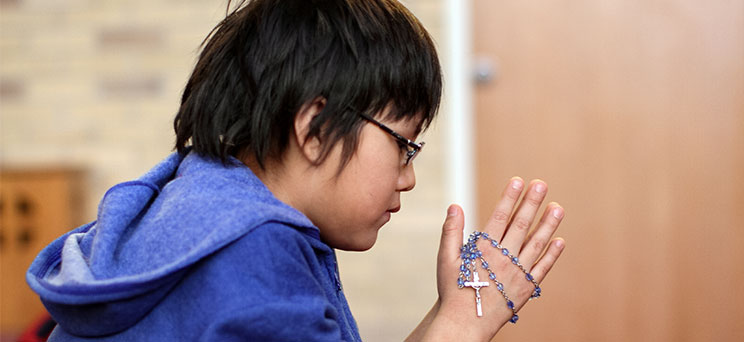 ---
Prayer for the Week
---
---
Learning, praying every day
A common thread that weaves through every sense of spirituality is prayer. St. Joseph's is blessed to be able to educate our students in such a way that helps them find this spiritual path in their lives.
"We pray with every class right when they enter the room," said Joe, St. Joseph's Religious Studies teacher. "We either pray as a guided meditation, offer petitions, give thanks, or simply say an Our Father." Prayer begins many other classes in the school, as well.
Students are taught that prayer is their personal time with God, so however they want to pray is about building that relationship.
"We work hard to remind the students that there is no wrong way to pray," said Joe. "They can pray in their head, say a prayer out loud, draw or color a picture or walk a Labyrinth. We start every year with a quick review of the 'You, Who, Do, Through' format."
| | |
| --- | --- |
| Rock | who is a sturdy fortress |
| Provident God | who gives me all I need |
| Jesus Christ | who saves us |
| | |
| --- | --- |
| protect me in my trials | through Christ our Lord. |
| provide me with the wisdom I seek | through the blessing of your Holy Spirit |
| forgive me | through your merciful heart |
Class Prayer for Houseparents written by second grade
Jesus our Shepherd, who watches over us and protects us, we ask that you help all houseparents be the best housparents they can be. Bless the houseparents that they may teach us to be more like Jesus. Through the power of the Holy Spirit, amen.
Class Prayer for Students written by third grade
Holy Spirit, who takes care of us and watches over us, help us to be nice to each other. Help those who are getting bullied. Help us to learn to the best of our ability. We pray for the teachers that they can be good role models for us and teach us so we can continue to grow in our education. In Jesus' name, amen.
Though St. Joseph's Indian School is affiliated with the Catholic Church through the Priests of the Sacred Heart, we welcome children of all faiths, recognizing the dignity of each human person created in God's image. Students are not required to be Catholic, and we respect each child's individual family beliefs.