The WoLakota Project – Creating Circles of Understanding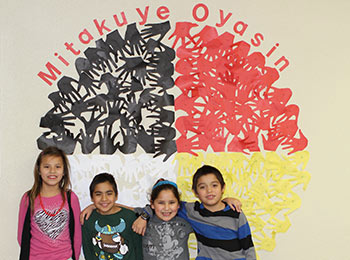 The WoLakota Project is an educational program that provides an opportunity for cultural understanding and exchange in the classroom. With education and the support of a mentor, teachers are given the tools to connect with their Native American students culturally, not just through a lesson, but in how they teach a lesson.
"We don't simply want to have Native American Studies in one class at St. Joseph's," said Clare, St. Joseph's Director of Mission Integration. "We want to be a school that approaches education from an integrated perspective, and that is what the WoLakota Project helps us do. It moves beyond teaching culture as a subject — to presenting the material with Native methodology."
Recognized by the State of South Dakota and intended to complement Common Core State Standards, the WoLakota Project seeks to promote cultural understanding among non-native students and teachers and help American Indian students embrace their identity.
"This program provides a cultural thread in the classroom," said Sharmel, St. Joseph's Principal. "With 100% of our students being Native American, it's particularly important at St. Joseph's that we do everything we can to help students embrace their heritage. One of the first steps is making sure all our staff members — native or otherwise — understand how important those roots are. This project gives teachers the tools they need to present on a variety of cultural topics with confidence."
Embracing diversity and cultural understanding lends a new perspective, which can be beneficial to students and staff of any background.
"Today's world requires that we have perspective from many sides of any given situation," said Sharmel. "We must see where they meet and then decide which path is best for us. That's what we hope to teach our students."
The WoLakota Project was developed by Technology in Education (TIE) under the direction of the Department of Education and Indian Education Office. To learn more, visit wolakotaproject.org.