Outreach and Other Programs

The work at St. Joseph's Indian School isn't confined to the Chamberlain, South Dakota campus.
Unlike many schools, St. Joseph's Indian School does not sit idle in the summer months. Students do not have regular classes; however, a growing number of children remain on campus to live in our summer homes and take part in our summer activities. Summer can be a trying time for Lakota (Sioux) children, especially on South Dakota's reservations.
Day Camp
At St. Joseph's Rising Eagle Day Camp, Lakota children from the Lower Brule and Crow Creek Indian Reservations take part in cultural arts and crafts, eat nutritious meals and thrive in a setting where kids can just be kids! Every day, camp counselors drive 30 miles, one way, to pick up Native American children who yearn to have fun, learn and form new friendships … all in a safe environment and at no charge.
Bookmobile
Each summer, St. Joseph's Bookmobile travels nearly 3,000 miles across South Dakota reservation communities to distribute free reading materials to children and families in need. This program put over 8,800 books into the hands of youth and adults this summer. Our dedicated staff also uses the time in each community to visit with former students, meet prospective families and hand out student applications. Libraries are a rarity in reservation communities, and the closest one may be more than 50 miles away! Thanks to your generosity, the Bookmobile is meeting a real need.
Women's Shelter
In traditional Lakota (Sioux) culture, women are viewed as sacred beings … they are the keepers of life, heart of the family.
Today, the sacred circle of traditional values has been broken in many reservation communities. Native American women are among the most abused — physically and sexually — demographic in the United States.
Unfortunately, services to help battered women and their children in reservation communities are rare. This is why the Sacred Heart Family Safe Shelter in Eagle Butte, South Dakota is so important. Our center provides abused women and children on the Cheyenne River Indian Reservation hope, safety and support in times of great need. Whether it's a temporary home while they leave a dangerous situation, or a ride to court, Lakota (Sioux) women receive moral support and guidance to help them through these challenging situations.
Currently, the needs of Native American families facing violent situations have outgrown what the existing shelter can provide. It is under-sized and doesn't allow the private, confidential care needed for the healing process to begin for victims and their families.
Learn more about the expansion project that will double the amount of space to care for victims of domestic violence and their families.
Adolescent Care Center
In many reservation communities, young adults often find themselves with little to no parental guidance. These young people fall victim to gangs, violence and substance abuse. Sadly, some of these young men and women end up in the juvenile court system.
For these youth, the adolescent care center, in Eagle Butte, South Dakota, provides the opportunity to learn from the negative in their life, turn those situations around and apply them in a positive way. Children are referred to the center's program where professionally trained staff help them learn how to live healthy, productive lives.
Care teams work with the children and their families to help promote healing and future success.
Sacred Heart Center Outreach Services
The Sacred Heart Center is a source of hope to the entire Cheyenne River Indian Reservation. Our team does not take this responsibility lightly, and we make every effort to have a positive impact on the community at large. From workshops on domestic violence to participation in local school health fairs, the Sacred Heart Center's outreach programs stand as a beacon of hope for the thousands of Native American people living on the Cheyenne River Indian Reservation.
The Bear Necessities Thrift Store
The Bear Necessities Thrift Store, located in Eagle Butte near the Sacred Heart Center, provides clothing and household items for those in need at a nominal cost. Items include adult and children clothing, shoes, household goods, bedding, books and other items that make a house a home.
College Scholarships
Each year, St. Joseph's is proud to help Native American students achieve higher education! Scholarship awards are given at the start of the fall and spring semesters. Native American students from South Dakota are eligible, but preference is given to St. Joseph's alumni and family members of current students.
Akta Lakota Museum & Cultural Center
The Akta Lakota Museum & Cultural Center, an educational outreach of St. Joseph's Indian School, is committed to promoting the knowledge and understanding of the Northern Plains Indian Culture past, present and future, through the preservation of historical artifacts and contemporary works of art. The words "Akta Lakota," meaning "to honor the people," were chosen because the museum is truly intended to honor and preserve the rich culture of the Lakota people, the students at St. Joseph's Indian School and for thousands who visit the museum each year.
St. Joseph's Thrift Store
In addition to monetary gifts, friends support St. Joseph's children and families with gifts of clothing, toiletries and much more. Each of the items so generously donated are first offered to our students and their families through our home, school and outreach programs.
When we are blessed with a surplus of items or gifts not immediately needed by our children, families or outreach programs, we offer the items at a nominal cost through our downtown thrift store.
Our store allows individuals from the area to purchase much-needed items at a discount while giving them the opportunity to support the boys and girls at St. Joseph's. All thrift store sales help to fund programs for the children in our care.
Additionally, the thrift store serves as a wonderful opportunity for our high school students to learn life skills. Interested students help staff at our thrift store as part-time employees. This benefits students by offering them flexible scheduling and real-life experience while also allowing them to earn income. Through this work experience, we help young adults learn the importance of good work ethic and the rewards of financial responsibility.
Reservation Mission Runs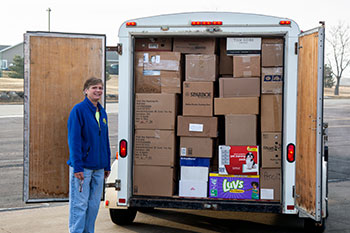 While the 200-plus Lakota boys and girls are cared for at St. Joseph's Indian School, we do not forget about their families and communities back home.
When we are blessed with a surplus of items, gathered from our St. Joseph's Thrift Store, we hand deliver them to people in over 30 reservation communities spanning South Dakota's nine reservations.
These trips are called Mission Runs and often include supplies of clothing, books, toys, diapers, blankets and household essentials. During South Dakota's harsh winters, mission runs can sometimes provide warm coats, blankets, hats, gloves and more to people in need.
Learn more about our other Native American Youth Programs.