St. Joseph's Indian School Recipes

Feeding the children at St. Joseph's Indian School — all 200 or so — is no easy feat. While lunch is served out of our Dining Hall, houseparents busily prepare breakfasts and dinners every day of the week. Students and houseparents sit around the table, family-style, and enjoy one another's company over a delicious meal.
What are they eating?! So many different foods — some of which we want to share with you!
We compiled recipes from each of our 20 campus homes into the following Our Favorite Wóyute — Meals recipe book just for you! The following are just two favorites. Eighteen other delicious recipes are waiting for you when you choose to download the booklet now.
Get your FREE recipe book now and happy cooking (and eating)!
Chicken Spaghetti from the Afra Home
Ingredients:
1 16 oz. box spaghetti, broken into pieces
2 cups chicken, cooked
8 oz. of chicken broth
1 can (10.5 oz) cream of mushroom soup
1 can (10.5 oz) cream of chicken soup
1 block (8 oz.) cream cheese
Parmesan cheese
Garlic powder
Onion powder
Paprika
Salt and pepper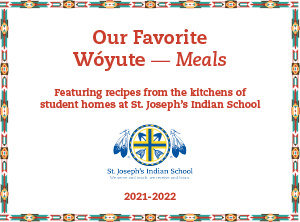 Cook spaghetti in chicken broth until al dente. Do not overcook. When spaghetti is ready, combine with remaining ingredients in a large bowl. If the mixture is too thick, add more brother or reserved pasta water little by little too thin. Place mixture in casserole pan and cook at 350°F for 45 mins. until bubbly.
---
Amber Chicken from the Giles Home
Ingredients:
5 lbs of thawed chicken tenders (or sliced breasts)
1 bottle Zesty Italian salad dressing
5 Tbsp honey
5 Tbsp lime juice
1 Tbsp minced garlic
Mix all ingredients in a large bowl or plastic bag and marinate for several hours. Pour everything in an electric skillet (including marinade). Cook on med-high, turning every 4-5 mins. until the sauce is thick and chicken is browning. Serve with butter garlic rice or cilantro lime rice.
Lakota Fry Bread
Ingredients:
1/4 cup sugar
3 teaspoons baking powder
2 cups flour
1 teaspoon salt
1 cup water (or just enough to make a soft dough)
Oil for frying
Mix all the dry ingredients together. Add water, mixing carefully. Divide the dough into four pieces and pat each into a round, flat shape. Add 1-2 inches of oil to a large skillet and heat to 350. Fry each round until crisp and brown on both sides.
For Indian Tacos:
Top fry bread with seasoned ground beef or buffalo, cheese, lettuce, tomatoes, salsa and sour cream.
---
Wóžapi (Wo ja pee) — Fruit Pudding
Ingredients:
2 cups chokecherries (any type of fresh/frozen berries)
1/2 cup water
3/4 cup sugar
3 Tbsp cornstarch
In a sauce pan mix berries, sugar and 1/4 cup of water. Bring to a boil. Meanwhile, stir cornstarch into 1/4 cup cold water until it has no lumps. While berry mixture is boiling slowly add the cornstarch water, stirring gently until combined. Simmer for two minutes on low heat. When it's thick remove from heat, let cool five minutes and enjoy by itself, on crackers or like the Lakota (Sioux) with fry bread.
---
Wasná — Pemmican
Ingredients:
1 c. dried meat (buffalo, elk or deer)
3/4 c. dried chokecherries (cranberries or other tart fruit)
Shred the dried meat in a food processor or blender. Add chokecherries and blend. The Lakota would include a fat of melted tallow or lard until incorporated. Other modern day options for fat include peanut butter.
Form the mixture into patties to dehydrate or make into balls to keep in refrigerator.
The Lakota ate this as a meal when they traveled. It should keep you energized and feeling full for most of the day.