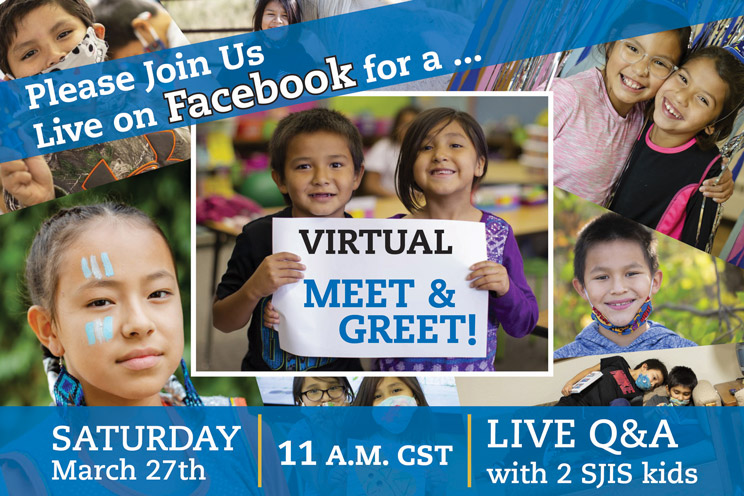 Who: St. Joseph's Indian School
What: Virtual Meet and Greet
When: Saturday, March 27 at 11 a.m. CST
Where: The Facebook live event from any computer, phone or tablet you choose with an internet connection.
Why: Due to procedure changes surrounding the Coronavirus pandemic, we've been unable to gather with supporters in-person this past year. We are hosting this live event for people to join us virtually to receive a tour of one of the student homes on campus, participate in a live Q&A with two students and learn more about the programs and services we are blessed to provide to Native American children and families.
---
Q: How do I join the live event?
A: To join the event, all you need to do is click this link on the day of the event.
Q: Do I need a Facebook account to take part in the event?
A: No, you do not need a Facebook account to watch the event. However, you will be a viewer only and unable to personally engage during the live feed.
Q: Will I be able to interact with the kids and ask questions?
A: Absolutely! You are encouraged to comment throughout the live event. We will do our best to respond to comments and questions. Remember, this is only available to people with Facebook accounts. Otherwise, you are a viewer only.
Q: Do I have to pay to attend?
A: Nope! This event is completely free-of-charge and an opportunity for you to meet two of our students and learn more about St. Joseph's Indian School.
Q: Do you have a question that was not answered above?
A: Please feel free to email plannedgiving@stjo.org with any questions.